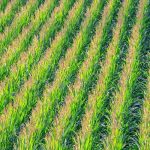 The Dunn County Soil and Water Health Partnership will be hosting a fall field day on Wednesday, September 27, 2017 at the Red Cedar Demonstration Farm (RCDF), located near the intersection of Hwy 12/29 East and Stokke Parkway, Menomonie, WI.
The workshop will be held from 12:30 pm – 3:30 pm (rain or shine) at the RCDF farm fields. Topics and speakers will focus on cover crops and will include:
Use of cover crops with fall manure applications– Matt Ruark, Associate Professor and Extension Soil Scientist at University of Wisconsin-Madison
Cover crop seed varieties update and discussion – Chad Zutter, Elk Mound Seed
Highboy cover crop application discussion and demonstration – Eberly Ag Services of Thorp
Precipitation and nitrogen use efficiency in 2017 – CVTC and Countryside Cooperative
Rainfall simulator demonstration – Brian Briski, NRCS Area Resource Conservationist
A total of 3 CCA CEUs have been applied for this session. Refreshments and light snacks will be provided by Compeer Financial. Those interested in attending are encouraged to register by September 22 to ensure an adequate number of handouts are available.
Please register by contacting Katie Wantoch, UW-Extension Dunn County Agriculture Agent, via email katie.wantoch@ces.uwex.edu or phone 715-232-1636. More information is also available on the UW-Extension Dunn County website – http://dunn.uwex.edu/agriculture/red-cedar-demonstration-farm-2/
This workshop is sponsored by the Dunn County Soil and Water Health Partnership, Compeer Financial, Elk Mound Seed and Countryside Cooperative. Partnership agencies include: Chippewa Valley Technical College, Dunn County Land and Water Conservation Division, Natural Resources Conservation Service and University of Wisconsin-Extension Dunn County.
Directions: The Red Cedar Demonstration Farm is located on the east side of Menomonie near the intersection of Hwy 12/29 and Stokke Parkway. The tent will be near the Dunn County Transit Commission building (640 Stokke Parkway, Menomonie, WI 54751).