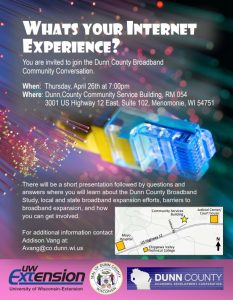 WHATS YOUR INTERNET EXPERIENCE?
You are invited to join the Dunn County Broadband Community Conversation.
When: Thursday, April 26th at 7:00pm
Where: Dunn County Community Service Building, RM 054
3001 US Highway 12 East, Suite 102, Menomonie, WI 54751
There will be a short presentation followed by questions and
answers where you will learn about the Dunn County Broadband
Study, local and state broadband expansion efforts, barriers to
broadband expansion, and how you can get involved.
Learn More:
As you may know, over the last two years Dunn County has taken on a proactive approach to expanding broadband to all residents and businesses in Dunn County. A Dunn County Broadband Team (Team) was created to spearhead these efforts which includes Dunn County, UW-Extension, and Dunn County Economic Development Corporation. As a result, a survey was conducted in the summer of 2017 which led to the Dunn County Broadband Gap Analysis Study. The study and survey report was made available on January 17, 2018 after the Dunn County Board of Supervisors received it. The study highlights the county's broadband experience from our residents and businesses which include maps created by UW-Extension Center for Community & Economic Development using the survey data. Over all we received a 10% response rate from Dunn County businesses and residents.
Key Takeaways:
Over half of all residential and business respondents are dissatisfied with slow and unreliable connections and the difficulties presented by poor internet service that does not support online school assignments, telecommuting, or streaming content.

8 out of 10 respondents indicated the primary reason they have no internet was a lack of availability for both residential and businesses.

A third of residents are interested in home business and almost half would consider telecommuting if they had adequate internet speed.
Anecdote of survey respondents
"

Broadband is critically important to economic development, social equity and individual participation in civic life. We need to find a way to insure that address does not inhibit access.

" – Residential Repondent
"

I have a real estate development at [REDACTED]. I have lost sales because broadband was not available there. People with home businesses have bought elsewhere because broadband is not available there. This has hurt my ability to make sales that were all but done and some backed out

." – Business Repondent
The Dunn County Broadband Analysis Study and survey report (including maps) can be found here or on the Dunn County Website.
With the study completed, the Team is moving forward with implementing the objects outlined in the study. Expect to see "Broadband Community Conversations" throughout this year and into the foreseeable future. The next Broadband Community Conversation event will be held on:
Date:April 26th
Time:7:00 pm
Location:Community Services Building
3001 US Highway 12 East Menomonie, WI 54751
Additionally, the Team is creating a database of addresses for interested residents and business that would be forwarded to internet service providers. This is strictly voluntary and those that do not indicate a desire to be in this database will be omitted and not distributed. The purpose of the database is to provide internet service provides an interest list when they analyze their next broadband project and expansion.
Thank you and we will try our best to keep everyone updated on the County's broadband efforts, events, and state-wide news.
-Dunn County Broadband Team
Stephanie Hintz & Jason Hausler*, Dunn County University of Wisconsin – Extension
Robert Colson & Addison Vang, Dunn County Planning and Zoning
Eric Turner & Cherie Haglund, Dunn County Economic Development Corporation
For additional information contact Addison Vang at: Avang@co.dunn.wi.us
Dunn County UW-Extension
3001 US Hwy 12 E, Room 102
Menomonie WI 54751
Phone: 715-232-1636
Fax: 715-231-6687