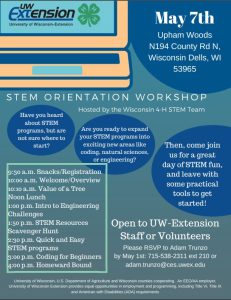 STEM Orientation Workshop for UW-Extension Staff & Volunteers
Our Wisconsin 4-H STEM Team is hosting a hands-on workshop for UW-Extension staff and volunteers interested in expanding STEM programming in their local areas.
This free event will be held on May 7th at Upham Woods Outdoor Learning Center from 10:00 a.m.- 4:00 p.m. and will provide tools and training around simple STEM efforts that clubs/groups can incorporate into their meetings in a matter of minutes, as well as ideas for more long-term programming. Materials/topics shared will have potential with all types of clubs/groups (afterschool, school-based, day camps, special interest, etc.).
Lodging is available at Upham Woods to those traveling long distances; just communicate that need when you register. If you will be arriving on May 6, please specify what your estimated arrival time will be. Upham Woods just asks that you arrive by 8 p.m. and bring a sleeping bag or your own sheets, so that linens are not needed. Please share any special dietary requests that you might have, as well.
If you are a Certified Dunn County UW-Extension / 4-H Volunteer and would like to attend this event feel free to contact Stephanie Hintz, Youth and Family Educator, at smhintz@co.dunn.wi.us or 715-231-6690. OR directly RSVP with to Adam Trunzo by May 1st.
Please RSVP to Adam Trunzo
by May 1st: 715-538-2311 ext 210 or
adam.trunzo@ces.uwex.edu
News From Around the State
Dunn County UW-Extension
3001 US Hwy 12 E, Room 102
Menomonie WI 54751
Phone: 715-232-1636
Fax: 715-231-6687