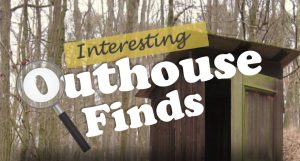 The Dunn County HCE Organization Presents:
I N T E R S T I N G O U T H O U S E F I N D S
Everyone is welcome!! Mark Youngblood has over 30 years' experience locating and excavating old outhouse sites, which were often used as household trash dumps in the 19th and early 20th centuries. Once considered trash, items recovered at these sites including antique bottles and other glassware are now treasures of collectors and hobbyists. Mark will be sharing some of his interesting finds from our local area with us.Please sign up early for this session by calling the Extension office and letting them know you will be attending. We are anticipating a large turnout, but will need to be able to reserve a room in the building to accommodate everyone easily.
To register by phone,
Call Dunn County UW-Extension (715)-232-1636
To register by mail, fill out the Registration Form Here and mail back to:
Dunn County UW-Extension
3001 US Hwy 12 East
Suite 102
Menomonie, WI 54751
If you have any questions regarding Dunn County HCE, please contact:
Stephanie Hintz
Human Development and Relationships Educator
smhintz@co.dunn.wi.us
Dunn County UW-Extension
3001 US Hwy 12 E, Room 102
Menomonie WI 54751-3045
Phone: 715-232-1636
Fax: 715-231-6687