The University of Wisconsin – Extension, Bremer Bank, and Wisconsin Farm Bureau are sponsoring a Winter Dairy Meeting. This seminar is aimed to help dairy farmers analyze their cost of production and provide information on the new Dairy Revenue Protection (RP) Program, a new tool with a quarterly payout to dairy farms when milk revenue falls below their insured revenue level. Please note, Dairy Revenue Protection is a new insurance product being offered (similar to crop insurance), and is not the same as USDA Farm Service Agency (FSA)'s Dairy Margin Protection Program (Dairy-MPP).
WHEN: Wednesday, January 9th, lunch provided at both locations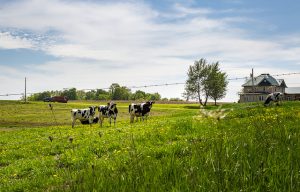 WHERE:
10:00 a.m. to 1:00 p.m., Dunn County Community Services Building, 3001 US Hwy 12 East, Lower level conference room 54, Menomonie, WI 54751
AND
12:30 p.m. to 3:30 p.m., St. Croix County Ag Service & Education Center, 1960 8th Ave, Baldwin, WI 54002
COST: No cost, lunch will be provided by Bremer Bank and refreshments will be provided by Wisconsin Farm Bureau at both locations.
Program Topics & Speakers:
Cost of Production Analysis – Jette-NantelCostProductionPreso2019 (pdf)
Katie Wantoch & Ryan Sterry, Agriculture Agents, UW-Extension Dunn & St. Croix County
Simon Jette-Nantel, Farm Management Specialist, UW-Extension/UW-River Falls
The Dairy Revenue Protection Program and Farm Bill Changes to the Dairy-MPP Program – https://dairymarkets.org/risk/DRP_DMC.pdf (link to pdf)
Topics will include: new Dairy RP structure and function; overview of Dairy programs RP, MPP and Livestock Gross Margin (LGM); USDA FSA's implementation; expected returns; decision making tool & calculations.
Mark Stephenson, Director of Dairy Policy Analysis, UW-Madison Center for Dairy Profitability
Pre-registration is recommended for materials and lunch meal.
Directions for Dunn County: The Dunn County Community Services Building (formerly the Dunn County Health Care Center) is located on the East side of the City of Menomonie. Our red brick building is located on a frontage road just off of Highways 12 and 29.