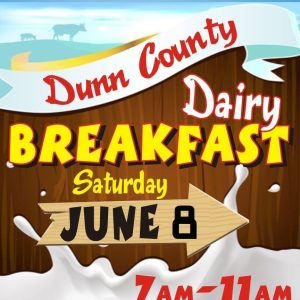 The 26th Annual Dunn County Dairy Promotion Breakfast will be held on Saturday, June 8th from 7 am to 11 am at Alfalawn Farm, N2859 290th Street, Menomonie, WI 54751. Alfalawn Farm is owned by the Styer Family, who are strong advocates for promoting Wisconsin's agriculture industry. Attendees are invited to enjoy a breakfast on a local dairy farm and sample a variety of yummy dairy products!
The annual dairy breakfast is hosted by a Dunn County dairy farmer each year and is coordinated by the Dunn County Dairy Promotion Committee. The cost of the dairy breakfast meal is $6 per person and children 5 and under are free. The meal includes all-you-can-eat Dad's Belgian Waffles with real maple syrup and flavored syrups. You'll be able to enjoy a variety of yummy dairy products, including white, chocolate and strawberry milk, Cady Cheese sticks, Ellsworth Cooperative Creamery deep-fried cheese curds, McDonald's Yoplait Go-Gurts, and Swiss Miss pudding snacks. Activities featured at the dairy breakfast will include a bake sale by St. Henry Church in Eau Galle, antique tractor display, petting zoo, tractor-driven hay wagon tours of the farm, and door prizes will be given away.
The 2019 host farm is Alfalawn Farm, a family farm co-owned by Randy Styer & Heather Johnson, Dave & Karen Styer, and Dale & Shannon Styer and families. Alfalawn Farm features a newly expanded dairy farm with the latest in agricultural technologies, including a rotary milking parlor and automatic calf feeders. The Styers' focus on efficiencies around the farm and utilize soil and water conservation best management practices
The Dunn County Dairy Promotion Committee was formed to give the public a better understanding of dairy farming and to allow the community to spend a few hours on a dairy farm.  With dairy farming being one of the most important aspects of the Dunn County economic picture, the committee wishes to show the community what a modern dairy farm operation looks and feels like.  With their attendance at the dairy breakfast, the committee hopes that community members will leave with a positive feeling about how important agriculture and dairy farming is to Dunn County.
Directions to Alfalawn Farm from Menomonie:  From Interstate 94 West, take exit 41 for WI Hwy 25 – Menomonie/Barron. Turn South onto WI-25/Broadway Street. Travel 10 miles to WI Hwy 72 (Downsville, WI). Turn right onto WI Hwy 72 and head West for 3 miles. Turn right onto County Hwy K for .5 miles and then left onto 290th Avenue. The parking area/field will be on your left. Please follow signs for parking.
For more information on this year's dairy breakfast, please check out our website https://www.dunncountydairypromotion.com/, Facebook page (Dunn County Dairy Promotion Breakfast) or contact committee member Katie Wantoch via email, katie.wantoch@wisc.edu, or the Dunn County UW-Extension Office at (715) 232-1636.