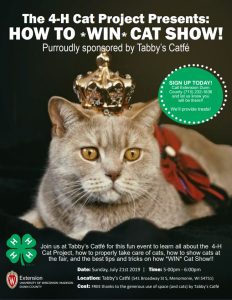 The 4-H Cat Project Presents: HOW TO *WIN* CAT SHOW!
Purroudly sponsored by Tabby's Catfé
Join us at Tabby's Catfe for this fun event to learn all about the 4-H Cat Project, how to properly take care of cats, how to show cats at the fair, and the best tips and tricks on how *WIN* Cat Show!!
Date: Sunday, July 21st 2019 | Time: 5-00pm – 6:00pm
Location: Tabby's Catfé (541 Broadway St S, Menomonie, WI 54751)
Cost: FREE thanks to the generous use of space by Tabby's Catfé
SIGN UP TODAY!
Call Extension Dunn County 715-232-1636  and let us know you will be there!!
We'll provide treats 😻
Tabby's Catfe will provide the cats. Please do not bring your own cats.
Feel free to share with your club and/or invite non-4-H Cat loving friends to the event! Give them a fun snapshot of what they could do in 4-H!!