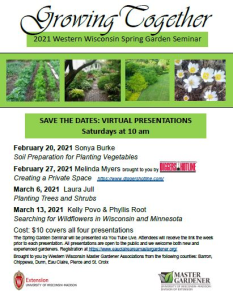 Dear Gardening Friends and Master Gardener Volunteers,
With 2020 behind us, are you thinking of your gardening plans for 2021?  The Western Wisconsin Master Gardeners are looking forward to a new season and invite you to attend our Growing Together Seminar. We have scheduled four presentations for Saturdays in February and March at 10:00am via YouTube Live.
Check out the flyer to the right or HOME | EC Master Gardeners for more information and to register.
A single $10 fee confirms your registration for all four presentations.
Registration is due by February 17 to receive the link for the first presentation on February 20. You can still register by the Wednesday before each week's Saturday presentation should you miss the first date. Paid registrants will have access to the presentations until April 1, 2021
If you have a YouTube account, you will be able to ask questions of the presenter using the chat feature.
Door prizes will also be announced at each session.
If you have attended Master Gardener seminars in other counties you may receive more than one email. Please share this information with your gardening friends near and far.
Brought to you by the Western Wisconsin Master Gardeners from
Barron, Chippewa, Dunn, Eau Claire, Pierce and St. Croix Counties