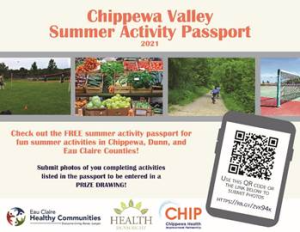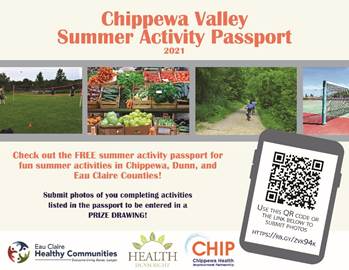 Summer is a great time to set health goals.  The Chippewa Valley Summer Activity Passport is here to support you in this by providing you with ideas on where to find exciting opportunities not only in Dunn, Chippewa, and Eau Claire Counties.  Whether your goal is to exercise more or eat more fruits and veggies, you mind find it easier to meet your goals when you're doing something you enjoy.
The best part?  You might be able to win some prizes for participating in the Summer Activity Passport, include free park and trail passes, workout gear, and more.  Here are the details:
Visit as many parks, trails, and local activities as you want.
Snap a photo of yourself at each location.
Upload the photo(s) to https://RB.GY/ZVK94K!  Each photo counts as an entry to win a prize, so the more activities you complete, the better your chances of winning.
The Summer Activity Passport can be found at www.visiteauclaire.com/plan/social-media/giveaways/.  Winners will be chosen throughout the summer and contacted via email or phone.