Good Afternoon Gardeners,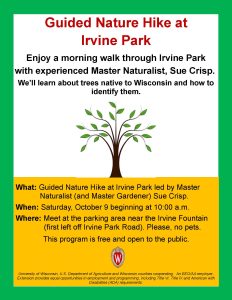 Enjoy a morning walk through Irvine Park with experienced Master Naturalist, Sue Crisp, Saturday morning October 9th. We'll learn about trees native to Wisconsin and how to identify them.
What: Guided Nature Hike at Irvine Park led by Master Naturalist (and Master Gardener) Sue Crisp.
When: Saturday, October 9 beginning at 10:00 a.m.
Where: Meet at the parking area near the Irvine Fountain (first left off Irvine Park Road).
This program is free and open to the public. Please, no pets.