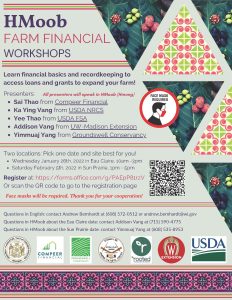 Learn financial basics and recordkeeping to access loans and grants to expand your farm!
Presenters:  All presenters will speak in HMoob (Hmong)
Sai Thao from

Compeer Financial

Ka Ying Vang from

USDA NRCS

Yee Thao from

USDA FSA

Addison Vang from 

UW-Madison Extension

Yimmuaj Yang from

Groundswell Conservancy
Two locations: Pick the date and site best for you!
Wednesday, January 26th, 2022 in Eau Claire WI
Saturday, February 5th, 2022 in Sun Prairie, WI
Register at https://forms.office.com/g/PAEpP81rzV
Face masks will be required.  Thank you for your cooperation!
Questions in English: contact Andrew Bernhardt at (608) 572-0512 or andrew.bernhardt@wi.gov
Questions in HMoob about the Eau Claire date: contact Addison Vang at (715) 590-4775
Questions in HMoob about the Sun Prairie date: contact Yimmuaj Yang at (608) 535-8953