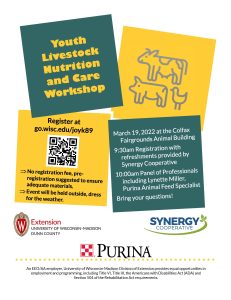 All feeds are made up of nutrients. Just like people, livestock must have certain nutrients in their daily feed to remain healthy and continue to grow. Join Extension, Synergy Cooperative and Purina on March 19
th
 for hands-on activities and demonstrations for youth to learn about the proper nutrition and care for raising livestock.  Animals will be on hand at the Colfax Fairgrounds (East Railroad Ave, Colfax, WI 54730).
Registration begins at 9:30 am with morning refreshments provided by Synergy Cooperative.
Activities and demonstrations will start at 10 am, featuring Lynetter Miller, Animal Feeds Specialist with Purina and other ag professionals.
Topics may include feed labels and ingredients, digestions of monogastric and ruminants, and species frame size, market ready weights and average daily gain.
Pre-registration can be done at go.wisc.edu/joyk89 and is encouraged to ensure adequate materials.
For more information, please contact Katie Wantoch, Agriculture Agent, Extension Dunn County, at 
715-232-1636
 or 
katie.wantoch@wisc.edu
.