Mission Statement:
The primary objective of the Dunn County Meat Animal Project is to encourage and educate livestock producers to improve their programs in the production, breeding and management of high-quality meat that will more adequately meet processing requirements and provide wholesome, nutritious and palatable meat as a food for the consumer.
| It is a privilege, not a right, to be in the Dunn County Meat Animal Project. |
Dunn County 4-H and FFA Meat Animal Committee Bylaws
*NEW* – Marketing Your Project – A Guide for Youth and Families
---
Scholarship Opportunity
Dunn County 4-H & FFA Meat Animal Project Scholarship Application, Due 4/30/2020
MAP scholarship application (word) MAP scholarship application (pdf)
Through a generous donation from a meat animal project (MAP) family and their employer, the committee has available (2) $250 cash scholarships. These scholarships are intended to be used to assist meat animal committee project members in purchasing either beef, sheep, swine or goat breeding stock to grow their herd. Scholarships could also be used for purchasing equipment to aid in the success of your long term project; scales, show boxes, fitting chutes, stands, fans, gates, etc. Think things that will help your project succeed long term.
---
Entry Rules and Species Requirements – 2019-2020
Carefully read the 2019-2020 MAP General Rules to make sure you know how to enter your Meat Animal. In addition to the general rules, each species has specific requirements which are listed below.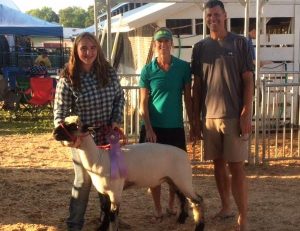 ---
Entry Forms and Weigh-in Information
Weigh-ins are held a the Dunn County Rec Park in the Small Animal building.  To help weigh-in go smoothly, please bring the entry form to weigh-in.  Copies are available at the Extension office if you are unable to print a copy.
Entry Form – Beef 2020 (PDF) Entry Form – Beef 2020 (Word)
Entry Form – Goat 2020 (PDF) Entry Form – Goat 2020 (Word)
Entry Form – Sheep 2020 (PDF) Entry Form – Sheep 2020 (Word)
Entry Form – Swine 2020 (PDF) Entry Form – Swine 2020 (Word)
Weigh-In Dates: Beef -December 7th 8-9 AM, Goats and Sheep – Saturday, April 18th, 9 AM to 11 AM.

– Postponed
Educational Requirements –
Educational Requirements: New for 2020–
To participate in the Meat Animal Project, project members are encouraged to attend a Dunn County MAP Rules Meeting (Dec. 5th or April 2nd, both at 6:30 in the Dunn Co. Community Services Building).
YQCA training online (

in-person canceled

) is required and you must download your certificate of completion and turn in to Extension by May 15th. If you miss this deadline you will not be allowed to show – no exceptions will be made so please do not wait until the last minute. You can go online now and take a personalized YQCA training for $12 or attend in person on March 26th, 2020 at 6:30PM and pay $3 when you register online. No educational forms will be needed for attendance at the Rules Meeting, YQCA training, and Carcass Clinic meeting.
NEW this year: Members failing to turn in a

YQCA certificate

and

signed species form

to the Extension Office by May 15, 2020 will not be allowed to sell their animals at the sale. PLEASE PLAN AHEAD. There will be no exceptions.
---
Forms –
Project Expense and Efficiency Report – Start filling out your project expense form as soon as possible!
COOL Country of origin affidavit & information – Animals to be sold must have a Country of Origin Affidavit accompany them to the fair. This is a USDA requirement, and a Dunn County Fair policy.
Animal ID Check-in Form **The Animal ID Check-in Form is also referred to as the "Load Sheet"
Animal Checklist for Fair Entry – ** Helpful list for signing up for animal projects at the Dunn County Fair
---
Rule Exceptions or Protests
If you need to request a rule exception, or wish to protest a project-related decision, please call the Extension office.
We moved from MAQA (Meat Animal Quality Assurance) to the National YQCA (Youth for the Quality Care of Animals) program fall of 2017. Are you interested in learning more about the switch from MAQA to YQCA? Check out this webinar below to learn more.
---
Statewide information
For other state-related Youth Livestock information, check out the 4-H Youth Livestock website:
Wisconsin Youth Livestock Program
---
Stay Updated with the Dunn County 4-H  program on Facebook!
If you have any questions regarding 4-H Youth Development, please contact:
Luisa Gerasimo
4-H Program Educator
lgerasimo@co.dunn.wi.us
Extension Dunn County
3001 US Hwy 12 E, Room 216
Menomonie WI 54751-3045
Phone: 715-232-1636
Fax: 715-231-6687