What is Extension?
Extension works alongside the people of Wisconsin to improve lives and communities. Our educators don't lecture or give grades in a typical classroom. Instead, we deliver education where people live and work – on the farm, in schools and community centers. Extension educators also speak to civic groups and county boards, write newspaper columns, do radio and TV programs, facilitate meetings and build coalitions to solve community problems.
With an office in each Wisconsin county and faculty on UW Campuses, Extension develops practical educational programs tailored to local needs and based on university knowledge and research. We're making a measurable difference in three tribal nations and in all 72 counties in our state, as our neighbors put their own great ideas into practice with the essential support of our expertise, resources and research.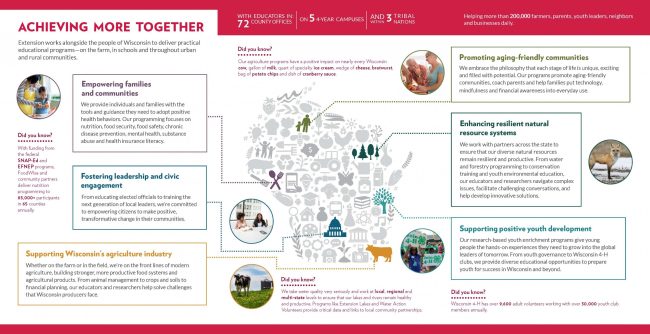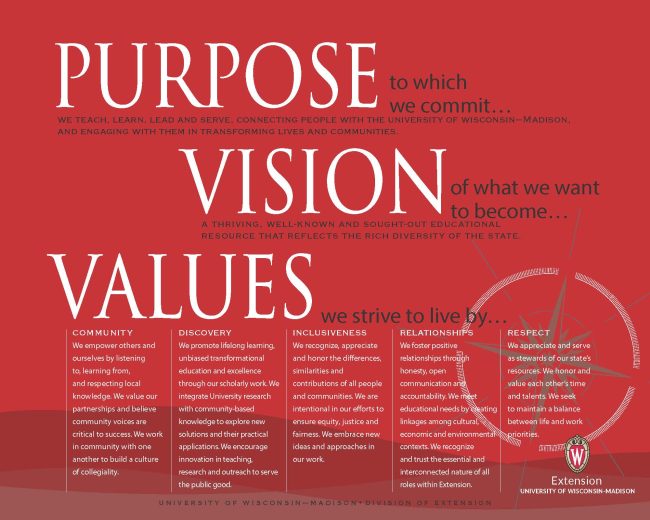 Returning to UW-Madison
You may have noticed that we've changed over to the UW-Madison colors on our websites and our logos. From now on, our official name will be the University of Wisconsin-Madison Division of Extension, but you can continue to call us "Extension".
Our mission is not changing. We're committed to our work in local communities throughout the state. Our experts will continue to work with you every day to ensure cutting-edge research at the campus benefits the people of Wisconsin, our children and our communities.
As part of the UW System Restructuring project, Extension is returning to our historic home at UW-Madison. Thanks to joining forces with UW-Madison, we'll strengthen each other through exchanging experience and research statewide. No matter what you're trying to accomplish in Wisconsin, you'll find the support you need as we continue to bring our home state together, community by community.
Civil Rights Statement:
The UW-Madison Division of Extension provides Title IX requirements which include affirmative action and equal opportunity in education, programming, and employment for all qualified persons regardless of race, color, gender, creed, disability, religion, national origin, ancestry, age, sexual orientation, pregnancy, marital or parental status, arrest or conviction record or veteran status. Requests for reasonable accommodations for disabilities or limitations should be made prior to the date of the program or activity for which it is needed. Please do so as early as possible prior to the program or activity so that proper arrangements can be made. Requests are confidential (ADA requirements). Contact the Extension Dunn County office at 715-232-1636 or WI Relay 711.