The trail is up and running! To see a map of all participating quilts, check out our brochure: Barn Quilt Brochure 2021
For a comprehensive guide and to learn the history of the quilts on the trail, visit this webpage: Dunn County Barn Quilt Trail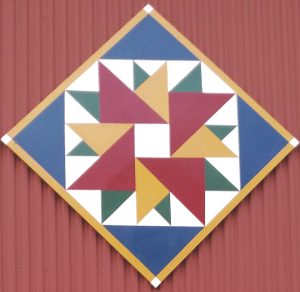 Please visit these website links for more information on Barn Quilts in Wisconsin and to view sample Barn Quilt patterns:
Are you interested in being on the Dunn County Barn Quilt Trail?
Barn quilts are popping up across the country. You may have seen them hanging on barns, sheds, or granaries as you traveled throughout the southern and eastern sections of Wisconsin and wondered what they were. Most barn quilts are a quilt block painted onto an 8' x 8' piece of plywood and hung on a barn or shed. It is an artistic way of promoting agriculture and tourism. In Dunn County, we're hoping to create a similar agri-tourism effort to celebrate our county and its rich agricultural history.
How can you get involved in this exciting initiative? For more information, please contact Mary Felton-Kolstad at 715-577-6678 or via email at mkolstad@charter.net.
The Dunn County Barn Quilt Project is a cooperative effort between UW-Extension Dunn County, the Menomonie Area Chamber of Commerce and Visitors Bureau. Our goal is to hang barn quilts throughout Dunn County and then create a "trail" to bring tourists to the area and business along the way. A brochure of the barn quilts, a description of the quilt block and a brief history of the farm will be highlighted in a "trail" map. We hope that tourists will not only enjoy the beauty of the quilt block but gain a greater appreciation for the rich history of each farm, agriculture and the surrounding area while traveling through Dunn County.
More in this Section